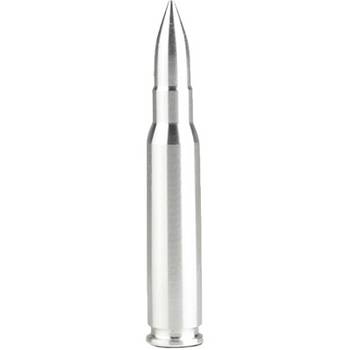 2oz NTR Metals Bullet Bar .308 Caliber Silver Bullion
99.9% pure silver
Product Description:
Styled as a replica of a .308 Caliber bullet (these bullets cannot be fired)

OPM/NTR: Ohio Precious Metals (OPM) is located in Jackson, Ohio USA, and is Americas largest refiner of LBMA good delivery gold bullion and silver bullion.

OPM Metals is an accredited London Bullion Market Association (LBMA) and COMEX good delivery brand. The LBMA is the international trade association that represents the market for gold bullion and silver bullion and is centred in London with a global client base. OPM are committed to producing the highest quality precious metal products with Conflict-Free and Responsibly-Sourced Certifications the cornerstones of their business.

All OPM gold products are refined to 99.99% purity and all silver products are refined to 99.9% purity.
NTR Metals is one of the worlds largest precious metals companies, refining over 30 million pounds of metal annually. They offer a full range of refining, recycling and minting services. NTR Metals operates over 75 locations globally, and serve more than 30,000 companies, ranging from small, independent businesses to large corporations.

All of NTRs minted bullion products are hand inspected for quality and consistency prior to packaging. NTR Metals only mints pure gold (99.99%) and pure silver (99.9%) bullion. By managing the entire metal lifecycle, NTR Metals is able to maintain high quality control. As part of the minting process, they refine, cast, extrude, roll, blank, and strike their gold and silver bullion products.