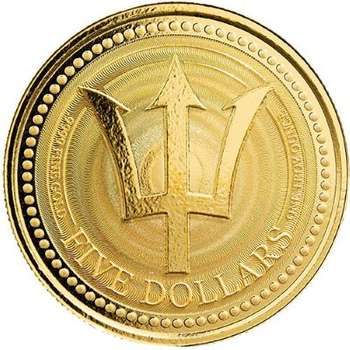 1 oz 2021 Barbados Trident Gold Bullion Coin
Packaging:
Protective Capsule
All KJC product prices are fully inclusive of insurance for world wide delivery.
These items are on a slight delay with availability expected in approx 4-6 weeks. Your entire order will ship upon their arrival (please note orders will only be dispatched when entire orders are fulfilled).
Product Description:
Issued from the country of Barbados, comes a new limited mintage Gold bullion coin that features the striking Trident from the National flag of Barbados.

This coin is manufactured and distributed by Scottsdale Mint and is a legal tender in the Country of Barbados. Symbolising power and strength, the Trident is derived from the mythical Roman God of the Sea and Freshwater, Neptune. However Unlike Neptune's Trident, the trident seen on the Barbados national flag has a broken shaft. This symbolises Barbados' historical break and eventual independence from the United Kingdom in 1966.

*Scottsdale Mint (Arizona US).
*99.99% pure gold
*Limited mintage of 5,000 coins
*Presentation in protective plastic capsule
*Legal tender in Barbados

The coins obverse displays the Barbados coat of arms. On the coins reverse it features the trident symbol the same as it appears on the Barbados national flag. It also features the face value "Five Dollar" and the year "2021". Both obverse and reverse rims feature wavy radial lines making the coins harder to duplicate and provide a measure of security.