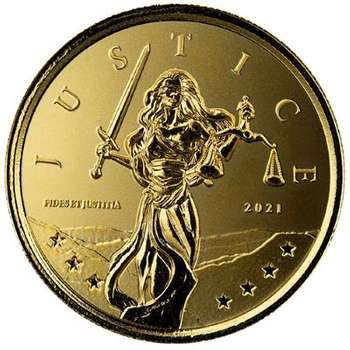 1 oz 2021 Lady Justice Gold Bullion Coin
All KJC product prices are fully inclusive of insurance for world wide delivery.
These items are on a slight delay with availability expected in february/march 2022. Your entire order will ship upon their arrival (please note orders will only be dispatched when entire orders are fulfilled).
Product Description:
This magnificent 1 oz 2021 Gold Bullion Coin pays tribute to the personified figure of the moral force in the judicial system, lady justice. She has been depicted on coins throughout history, and one of the earliest examples was from the Roman Empire around 100 AD. Her well-renowned sword signifies the notion that justice stands by its decision and ruling, and is able to take action. The fact that the sword is uncovered and very visible is a sign that justice is transparent and is not an implement of fear.

The obverse of each coin features a classic engraving of Lady Justice, blindfolded and holding a sword in her right hand, and scales in her left. The Latin phrase "fides et justitia" accompanies the artwork. The reverse bears the Gibraltar Coat of Arms as well as weight, purity, content, and denomination value.

The Gibraltar Coat of Arms, year of issue, weight, purity, and denomination of the coin are all featured on the reverse.