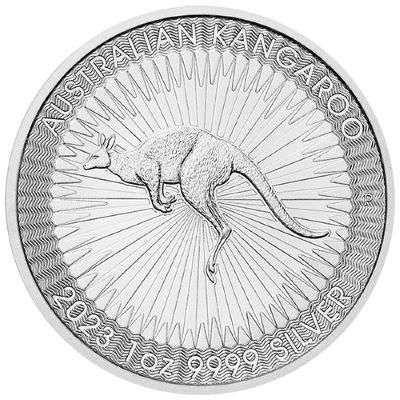 1 oz 2023 Australian Kangaroo Silver Bullion Coin
One of the best value silver products from the Perth Mint
Monarch:
Queen Elizabeth II
Design:
Bounding Kangaroo
All KJC product prices are fully inclusive of insurance for world wide delivery.
Product Description:
An Iconic Product of the Perth Mint, the 1 oz Silver Australian Kangaroo bullion coin, is a striking tribute to Australia's most beloved and iconic animal. The Australian kangaroo has a distinctive style of movement, hopping on its hind legs whilst using its large muscular tail for balance, making it one of the only animals which are unable to move backwards. This is one of the reasons why the kangaroo bearers the Australian Coat of Arms as it signifies a country moving forward.

* 99.99% pure silver
* Australian legal tender
* New kangaroo design
* Internationally recognised

The coin is issued as legal tender under the Australian Currency Act 1965 with an unlimited mintage. Government assurance of weight and purity.

Reverse: the silver kangaroo coin depicts the classic artistry of a bounding red kangaroo surrounded by rays of sunlight. The inscription AUSTRALIAN KANGAROO, The Perth Mints P mint mark, the 2023 year-date and the weight and purity are also included in the design. The coin's obverse bears the Jody Clark effigy of Her Majesty Queen Elizabeth II, supplemented with the dates of her reign, and the monetary denomination.

A security feature in the form of a micro-laser engraved letter within the design. It is only detectable under a magnifying glass.

Comes individual with a minimum purchase of 10 coins, in a tube of 25 coins or a monster box of 250 coins.