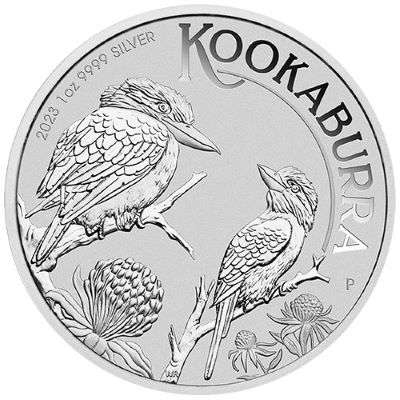 1 oz 2023 Australian Kookaburra Silver Bullion Coin
Popular product featuring the newest design - limited mintages, while stock lasts
Monarch:
Queen Elizabeth II
Design:
Two kookaburras perched on branches surrounding waratah, a native floral treasure.
Designer:
Wade Robinson/Jody Clark
Packaging:
Acrylic Capsule
All KJC product prices are fully inclusive of insurance for world wide delivery.
Product Description:
This stunning 1 oz 2023 silver bullion coin celebrates Australia's 'King of the Bush,' the kookaburra. As a frequent visitor to many Australian backyards, this beloved national icon is known around the world for its famous call which sounds like laughter. This call is used to establish territory among family groups, most often at dawn and dusk.

* 99.99% pure Silver
* Australian Legal Tender
* New reverse artistry
* Limited mintage of 500,000

The coin's reverse features a waratah, a prized native flower, surrounded by two kookaburras perched on branches. All coin designs have the wording "KOOKABURRA," the customary "P" mintmark of The Perth Mint, the year 2023, the weight, and the purity.The obverse of each coin bears the Jody Clark effigy of Her Majesty Queen Elizabeth II and the monetary denomination.

This 1 oz 2023 Australian Kookaburra Silver Bullion Coin is part of a three-coin series also featuring 1 kilo and 10 oz. All coins are meticulously struck by The Perth Mint from 99.99% pure silver. The coin is issued as Australian legal tender under the Australian Currency Act 1965. It is presented in a protective acrylic capsule with a Limited mintage of 500,000.