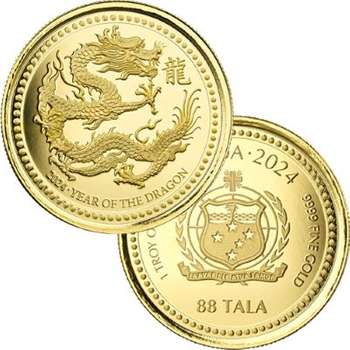 1 oz 2024 Samoa Year Of The Dragon Gold Bullion Coin
Packaging:
Offical Mint Packaging
All KJC product prices are fully inclusive of insurance for world wide delivery.
These items are on a slight delay with availability expected in approx 4-6 weeks. Your entire order will ship upon their arrival (please note orders will only be dispatched when entire orders are fulfilled).
Product Description:
The Dragon is the fifth in the 12-year cycle of the Chinese Imperial Lunar New Year.

Traditional Chinese culture gives the Dragon a very high reputation. In Chinese daily language, excellent and outstanding people are compared to dragons. This is because the Dragon represents auspiciousness, imperial power, nobleness, honour, good fortune, and success.

*Legal Tender in Samoa ($88 Tala )

*Limited Mintage: 888

*Custom Chinese Sycee Collectible Box

*Individualised Certificate of Authenticity

Reverse of each coin depicts a traditional Chinese dragon with the date "2024" and "year of the dragon" inscribed on the bottom. The coins obverses depicts the Samoan coat of arms along side the weight, purity, date, and the monetary denomination.

With a mintage of only 888 pieces and a face value of $88 Samoan Tala, this 1 oz Gold coin is supplied in a custom designed Chinese Gold sycee ingot box. Each coin is sealed in a capsule and comes with an individualised certificate of authenticity.

You may be asking yourself, it's only 2021 and why are you releasing a 2024 Lunar Year coin?

Our industry is currently experiencing massive demand for both gold and silver products, supply and pricing is under constant threat. Whilst no one has a crystal ball to see into the future, many investors and collectors are afraid they may not be able to afford a 1 ounce Dragon coin by the time 2024 rolls around. Thus, Scottsdale Mint has given us the opportunity to bring this special coin to the people now.