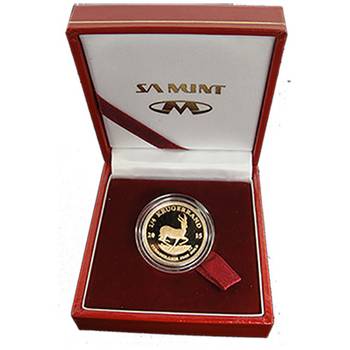 1/4oz 2015 South African Krugerrand Gold Proof Coin
FDC in case of issue with certificate
Condition:
Mint Condition
Packaging:
Original Sa Mint Box
Product Description:
This 1/4oz 2015 South African Gold Krugerrand is in pristine Proof Quality as issued.

Housed in its original SA Mint Box with capsule and certificate , there are only 1000 of these coins struck worldwide.

The iconic Krugerrand was first minted in 1967 and interestingly whilst Krugerrands are considered legal tender coins, they surprisingly do not have a face value listed on the coin itself.

The coins artwork tributes to the beauty and heritage of South African culture. The obverse features Paul Kruger, the famous President of South Africa, celebrated as the primary resistance leader against the British in the Second Boer War. The coins reverse depicts a Springbok Antelope, captured galloping in its natural environment.