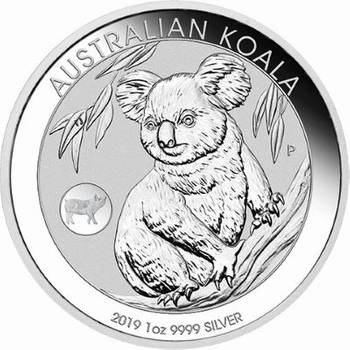 1oz 2019 Australian Koala Pig Privy Silver Bullion Coin (Brand New Coins)
Limited Mintage of Only 15,000!
Monarch:
Queen Elizabeth II
Packaging:
Acrylic Capsule
These items are on a slight delay with availability expected in approx 2 weeks. Your entire order will ship upon their arrival (please note orders will only be dispatched when entire orders are fulfilled).
Product Description:
* 99.99% pure silver
* Australian legal tender
* Limited mintage 15,000
* Iconic koala design
* Features a lunar pig privy mark

The Perth Mint is excited to present this 1oz silver bullion coin featuring the 2019 Australian koala design with a pig privy mark. Historically, a privy mark is a small symbol in the design of a coin which is added for the purpose of identifying the mint that struck it. The Perth Mint adapted the concept in the 1990s when it began adding miniature commemorative symbols to a range of limited mintage releases for added design interest.

The Australian Koala with Lunar Pig Privy 2019 1oz Silver Bullion Coin is struck by The Perth Mint from 99.99% pure silver, and issued as legal tender under the Australian Currency Act 1965. This coin has a limited worldwide mintage of 15,000.

The reverse of each coin portrays a koala sitting on the branch of a eucalyptus tree with gum leaves in the background. The design incorporates a privy mark portraying the lunar pig. The inscription AUSTRALIAN KOALA, The Perth Mints traditional P mintmark, the 2019 year-date, and the weight and purity are also included in the design. The Jody Clark effigy of Her Majesty Queen Elizabeth II and the monetary denomination are shown on the obverse of each coin.

The Australian Koala with Lunar Pig Privy 2019 1oz Silver Bullion Coin is presented in a protective acrylic capsule.