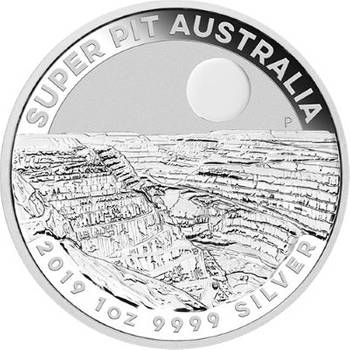 1oz 2019 Australian Super Pit Silver Bullion Coin (Brand New Coins)
Limited Mintage of 100,000 Coins-sold out at perth mint!
Monarch:
Queen Elizabeth II
Design:
Super Pit Silver Bullion
Packaging:
Acrylic Capsule
Product Description:
* 99.99% pure silver
* Features original artistry of the iconic Super Pit mine
* Australian legal tender
* Micro-engraved authentication feature
* Limited mintage 100,000

This outstanding 1oz silver bullion coin celebrates the iconic Super Pit mine. Gold discoveries across the outback sent the world rushing to Western Australia in the early 1890s. The abundant finds included the celebrated Golden Mile at the mining town Kalgoorlie, which is now home to the Super Pit. At almost 3.5km long, 1.5km wide and more than 600m deep, the Super Pit produces approximately 700,000 ounces of gold each year.

Struck by The Perth Mint from 1oz of 99.99% pure silver, the coin is issued as legal tender under the Australian Currency Act 1965. No more than 100,000 of the Super Pit 2019 1oz Silver Bullion Coin will be released. The coins reverse portrays original artistry of the awe-inspiring mine. As well as the depiction of this spectacular landmark, the design includes the inscription SUPER PIT AUSTRALIA 1OZ 9999 SILVER and The Perth Mints P mintmark. The Jody Clark effigy of Her Majesty Queen Elizabeth II and the monetary denomination are depicted on each coins obverse.

The coin includes an authentication feature on the reverse in the form of a micro-laser engraved letter. Contained within the coins inscription AUSTRALIA, this letter is only detectable under a magnifying glass. The authentication feature is designed to make it significantly more difficult for the coin to be counterfeited.

The Super Pit 2019 1oz Silver Bullion Coins are packaged in protective clear tubes of 25 coins. There are 10 tubes to a monster box.