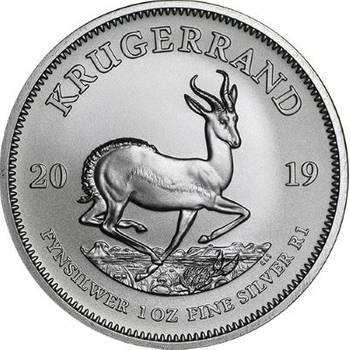 1oz 2019 South African Krugerrand Silver Bullion Coin (Brand New Coins)
World Famous Krugerrand Design in Pure Silver!
Product Description:
* 99.99% pure silver
* Struck at the Rand Refinery
* South African legal tender
* Available in tubes of 25 coins
* Internationally recognised
* Highly liquid

Each 1oz Silver Bullion Krugerrand features the traditional prancing springbok (as designed by Coert Steynberg) on the reverse, and the bust of Paul Kruger (as designed by Otto Schultz) on the obverse, surrounded by 200 serrations. Each coin has a face value of R1.

The un-encapsulated 1oz Silver Bullion Krugerrand can be purchased in bulk packaging of 25 coins per tube, or a box of 500 coins (20 tubes).