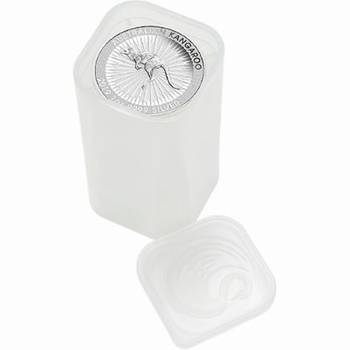 1oz Australian Kangaroo Silver Bullion Coin Tube Of 25 Coins (25oz) -Dates of Our Choice
Iconic Kangaroo Design
Monarch:
Queen Elizabeth II
Design:
Australian Kangaroo Tube
Packaging:
Mint-Sealed Tube
Product Description:
* 99.99% pure silver
* Australian legal tender
* Government assurance of weight and purity
* Iconic kangaroo design
* Micro-laser engraved security feature
* New Jody Clark effigy
* Mint-sealed tube of 25 pieces (thus 25oz total)

The Australian kangaroo is a large marsupial endemic to Australia. Identified by its muscular tail, strong back legs, large feet, short fur, and long, pointed ears, the animal has become a much-loved national icon. Struck by The Perth Mint from 1oz of 99.99% pure silver, each coin is issued as legal tender under the Australian Currency Act 1965 with an unlimited mintage.

Mint-sealed tubes of 25 coins direct from mint-sealed monster boxes.