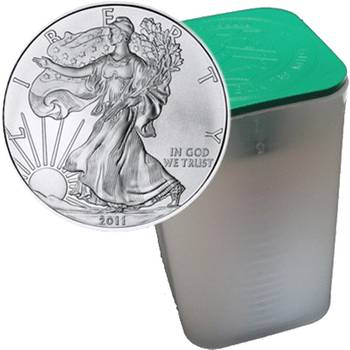 1oz US Eagle Silver Bullion Coin Mint Tube of 20 Coins (20oz) (Mint Condition) - Dates of KJC's Choice
99.9% Pure Silver - Now on Sale!
Condition:
Mint Condition
Packaging:
Original Mint Tube
Product Description:
* 99.9% pure silver
* USA legal tender
* Internationally recognised
* Highly liquid
* Original mint tubes of 20 coins thus 20oz silver in total
* Photo an indication only actual coins will be dates of KJC's choice depending on our inventory in stock

The Silver Eagle is the official silver bullion coin of the USA and has been minted by the US Mint since 1986. Each coin is struck from 99.9% pure silver with a legal tender value of 1 US Dollar and is guaranteed to contain 1oz of 99.9% pure silver.

The obverse design features Walking Liberty who first appeared on the US Half Dollar coin and the reverse design features a heraldic eagle behind a shield. All coins also feature the inscription '1oz Fine Silver - One Dollar'.

Packaged in tubes of 20 coins (20oz) each.