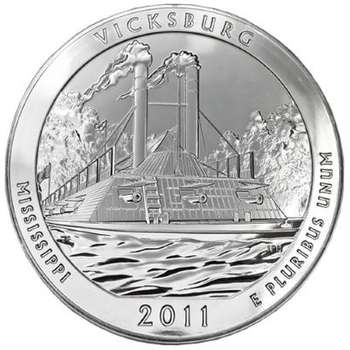 5 oz 2011 ATB Vicksburg Silver Bullion Coin
Designer:
John Flanagan/Thomas Cleveland
All KJC product prices are fully inclusive of insurance for world wide delivery.
Product Description:
Obverse: The USS Cairo ironclad battleship sailing up the Yazoo river

Reverse: Bust of George Washington by John Flanagan

* Extremely limited mintage at 33 000
* Highly Collectable and difficult to source
* 5 oz .999 fine silver
* Sold individually with 10 coming in a tube

This coin depicts the USS Cairo one of the first American ironclad warships ever produced. She played a pivotal role in the capture of the confederate strong hold of Fort Pillow, but was later sunk in 1862. Her remains can be viewed at the Vicksburg National Military Park in Vicksburg Mississippi

The "America the Beautiful" series was produced from 2010 unto 2021. These lovely 5 oz fine silver coins are a great addition to any silver holdings and commemorate the original 1932 Washington Quarter on the Reverse in stunning detail.