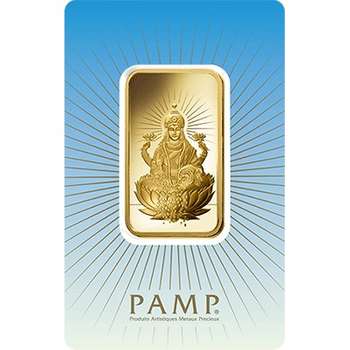 1 oz PAMP Suisse Minted Gold Bullion Bar - Lakshmi
All KJC product prices are fully inclusive of insurance for world wide delivery.
These items are on a slight delay with availability expected in 24 hours. Your entire order will ship upon their arrival (please note orders will only be dispatched when entire orders are fulfilled).
Product Description:
* 99.99% pure gold (24k)
* Assay certificate & serial number
* LBMA accredited Good Delivery Brand
* High quality minted finish
* Tamper-evident packaging
* Lakshmi design
* Internationally recognised
* Highly Liquid

Each bar is struck from 1oz of 99.99% pure gold in a high quality minted finish featuring the Hindu Goddess of wealth, love, prosperity, fortune, and the embodiment of beauty. She is said to bring good luck and is believed to protect her devotees from all kinds of misery and money-related sorrows.
Stamped with their weight and purity each bar comes sealed in tamper-evident packaging with an assay certificate printed on the reverse of the sealed pack.

Pamp Suisse
Produits Artistiques Mtaux Prcieux - artistic precious metals products - better known as PAMP, is one of the worlds leading bullion refiners. Located in Geneva, Switzerland, PAMP are LBMA (London Bullion Market Association) accredited.