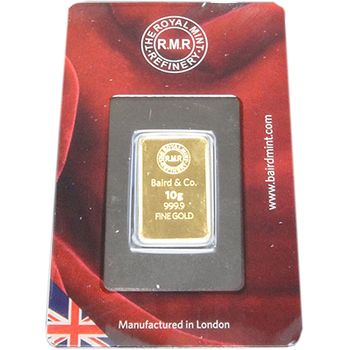 10gram British Royal Mint Refinery (RMR) Minted Gold Bullion Bar
99.99% Pure Gold
Mint:
Royal Mint Refinery
Packaging:
Tamper-Proof Card
Product Description:
* 99.99% pure gold (24k)
* Over 1,000 years experience minting coins
* Royal Mint Refinery in operation since 1852
* Internationally recognised
* Highly liquid

The Royal Mint Refinery
The Royal Mint Refinery marque dates back to 1852. Operated for more than 100 years by N.M. Rothschild and Sons, it became an established brand with a strong reputation for handling much of the gold and silver Bullion sent to London from across the globe for processing under the RMR label until production ceased in 1968. The Royal Mint Refinery brand has now been revived by The Royal Mint in partnership with Baird & Co Ltd.

The Royal Mint, is an organisation with a history stretching back over 1,000 years which today is recognised globally as a secure bullion provider with a reputation for integrity and quality assurance.