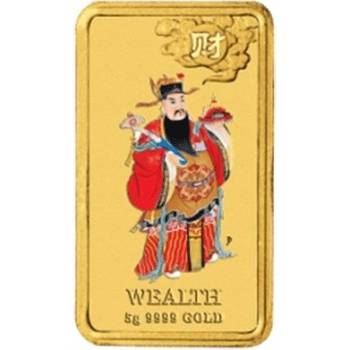 10gram Wealth - 2009 Mythological Chinese Character Series - Rectangular Gold Bullion Coin
99.99% Pure Gold - Struck by the Perth Mint
Monarch:
Queen Elizabeth II
Design:
Mythological Chinese Character Series - Success
Condition:
Mint Condition
Product Description:
* Specimen quality 99.99% pure gold (24k)
* Struck by the Perth Mint
* Unusual rectangular shape
* Australian legal tender
* Lucky characters portrayed in colour
* Declared final mintage of just 68 coins!
* Presented in plastic flips

Vivid characters hold centre stage in Chinese mythology, a vast anthology of ancient legends, folklore and traditional beliefs. Some of the most popular characters are revered as embodiments of fortune and prosperity. Symbolised in homes and businesses, these lucky figures exercise a powerful influence in many people's lives.

This stunningly original series of rectangular coins portrays four of the best-loved characters from Chinese mythology. Struck by The Perth Mint from 10g and 5g of 99.9% pure gold in specimen quality, each coin demonstrates the Mints exceptional coloured minting skills.

Issued as legal tender under the Australian Currency Act 1965, The Perth Mint declared a final mintage of just 68 10g WEALTH coins worldwide.

The reverse of each rectangular gold coin depicts a coloured representation of a Chinese mythological character symbolising either: FORTUNE, SUCCESS, LONGEVITY or PROSPERITY.

Each design incorporates the Perth Mint's P mintmark and the Chinese word for fortune, success, longevity or prosperity superimposed on clouds. The obverse of each coin depicts the Ian Rank-Broadley effigy of Her Majesty Queen Elizabeth II, the monetary denomination and the 2009 year-date.