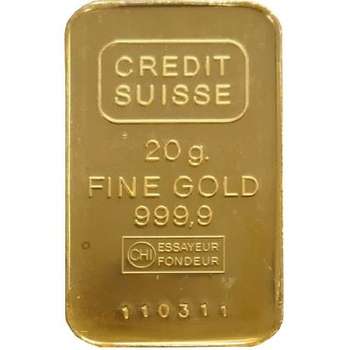 20 g Credit Suisse Minted Gold Bullion Bar
99.99% Pure Gold - Minted Finish - Credit Suisse Logo on Reverse
All KJC product prices are fully inclusive of insurance for world wide delivery.
Product Description:
* 99.99% pure gold (24k)
* Produced by Valcambi
* LBMA accredited Good Delivery Brand (Valcambi)
* Minted finish
* Presented in plastic flip
* Famous Credit Suisse logo pattern on reverse
* Internationally recognised
* Highly Liquid

Credit Suisse

Iconic Credit Suisse minted gold bars produced for the Swiss financial institution Credit Suisse, these are produced from 99.99% pure gold by world leading precious metals refiner Valcambi.

Valcambi was established in 1961 and throughout their history have been solely focused on the business of precious metal refining. Valcambi is a listed as a good delivery brand on both the London Bullion Market Association (LBMA) and the COMEX.